Ty's amazing! Plays in just about any style, picks things up super fast and takes direction amazingly well. I brought him in to record on a very complex song and within a couple passes he was ready to record. Very chill guy with excellent tastes and a large knowledge of music history to draw upon. Looking forward to working with him again.
"As an artist and musician, you have nothing to lose. Let's work together and bring your vision to life.
I am a professional LA based drummer available for live performances with artists or established bands; session work on drum set or percussion, and private instruction.
I do live performances with artists and established bands; session work on drum set or percussion, and private instructions for learning enthusiasts.
I started playing drum set in the school band when I was 11 years old playing popular music from the 50s and 60s. That is where I met the members of my first project later known as "Cloud Nine". Our love of rock music from the 70s through the 90s with bands like Led Zeppelin, the Doors, Pink Floyd, Bob Marley, Nirvana, Sound Garden, and Tool inspired us to write our own original music. After establishing ourselves around town in high school and winning the statewide Battle of the Bands, I decided to leave the state for college and further develop my skills in drumming and percussion.
I earned a bachelor's degree in percussion performance from the University of Arizona. After receiving my degree, I moved to Los Angeles where I studied contemporary drum set at the LA Music Academy.
In LA I have performed in several cover and tribute bands from Top 40 Country with "Pam Lyn King & the Royal Rukkus" to Classic Rock with "Saloon No 12" and Bruno Mars with "Uptown Funk: a tribute to Bruno Mars". I have also played in bands Waiting 4 Wyatt, Artichoke, and Tommy Drinkard & the Remedy. and supported artists such as Adjenai Worrell, a soulful blues pop artist, Kira Morrison's jazz quartet and Geronimo, live hip hop with acoustic guitar.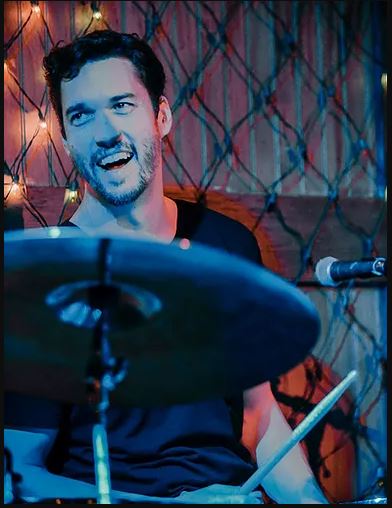 My goal with music and drumming is to set fire to the audience's moods and senses, seducing them with infectious grooves that keep them on the dance floor all night long.
To inspire the artist's vision and help the songwriter share their story with the world. 
Excellent drummer and teacher! I watched some of his work on line before contacting him for instruction. Very impressive! He was pleasant to work with and really took his art serious. I was looking for zoom instruction for my daughter and I was wondering how this would work? Ty had his materials, exercises and instruction all dialed in. My daughter was engaged the whole time and can't wait for her next lesson. He definitely has a passion for what he does. I would highly recommend!
Want to discuss your next project? Get In Touch